The "Kansai Wide Area Pass" issued by JR West Japan is a discount ticket for foreign travelers.
The "Kansai Wide Area Pass" allows unlimited travel on certain Sanyo Shinkansen and limited express trains for five days not only in the Kansai region but also in the Sanyo, San‐in, and Hokuriku regions.
In this issue, I will introduce the convenient "Kansai Wide Area Pass" that allows you to tour around the Kansai region with a single ticket.
What kind of ticket is the "Kansai Wide Area Pass"?
The "JR West Rail Pass" is an unlimited-ride pass issued by JR West for foreign visitors to Japan.
There are a total of nine types of tickets for the "JR West Rail Pass".
Each of them covers an area such as Sanyo, Sanin and Hokuriku.
One of them is the "Kansai Wide Area Pass", which allows unlimited rides in a wide area.
It covers the Kansai Airport, the Kansai region, Okayama and Tottori.
The pass covers unreserved seats on JR West's Sanyo Shinkansen (Shin-Osaka to Okayama only), unreserved seats on limited express trains such as "Haruka", "Kuroshio", "Thunderbird", and "Konotori", and ordinary trains on rapid trains on JR West's conventional lines.
First, you should check out the highlights of the area you can visit with the pass.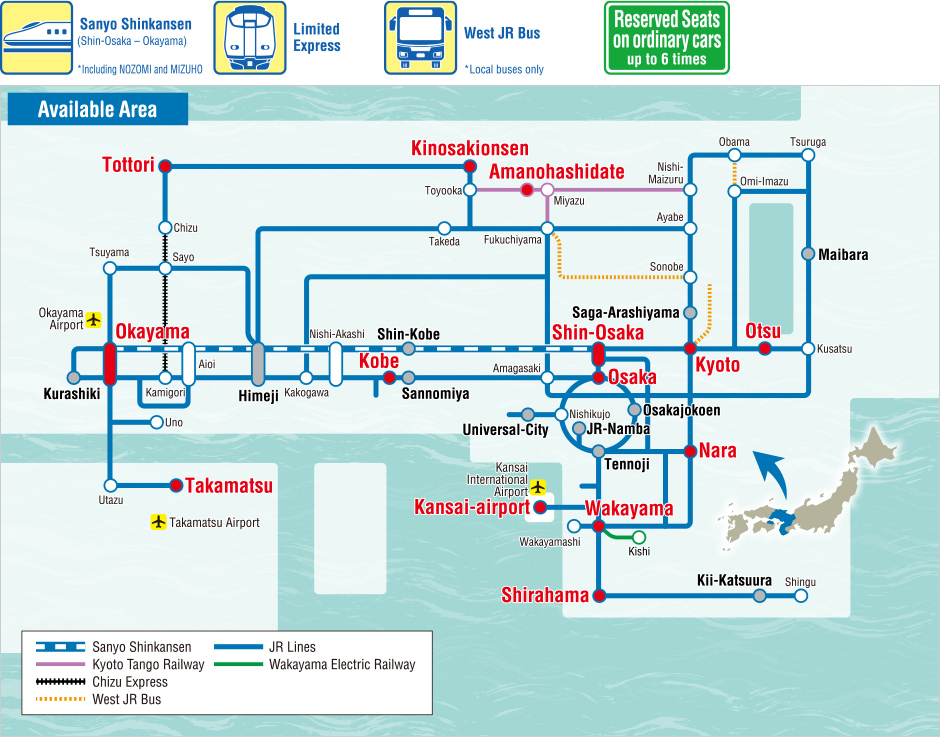 In this issue, we will introduce in detail the "Kansai Wide Area Pass" from the "JR West Rail Pass", which is convenient for travel from Kansai to Okayama.
How far can I go with my pass? Check out the sights you can access!
The "Kansai Wide Area Pass" allows you to travel from Kansai International Airport to Osaka, Kyoto, Kobe, Nara, Himeji, Shiga, Okayama, Tottori, Wakayama/Shirahama, Kinosaki Onsen, and Takamatsu.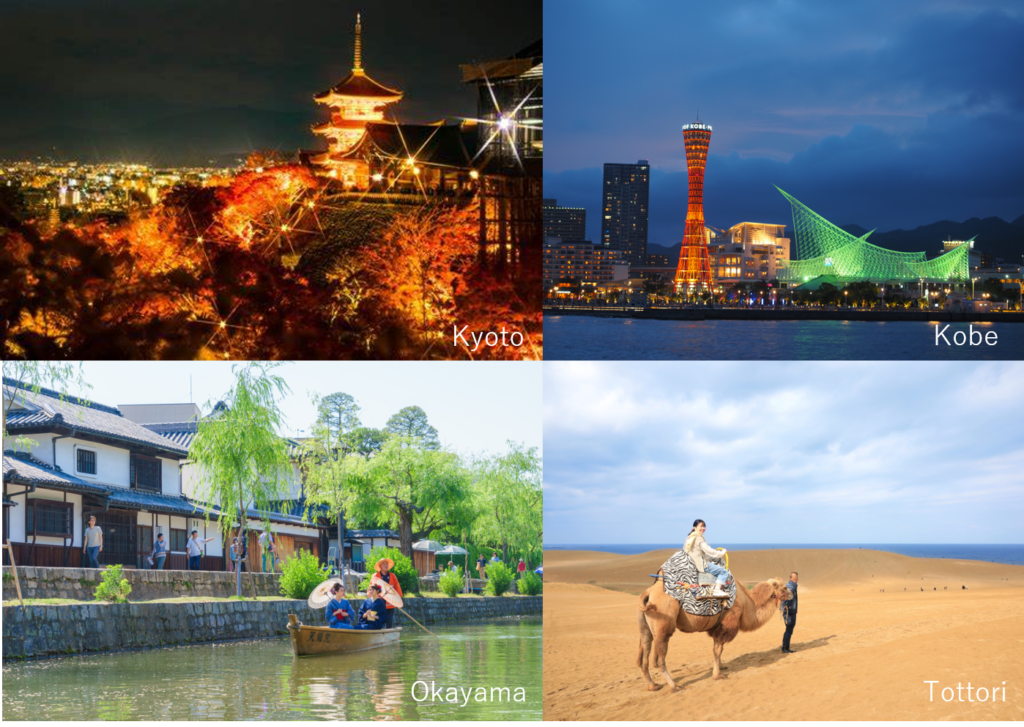 This pass is ideal for those who wish to travel a little further from Kansai and visit sightseeing spots in Okayama, such as the Kurashiki Bikan Historical Quarter in Okayama Prefecture, with its retro-modern landscape of white-walled warehouses and willow trees, and the Seto-ohashi Bridge, which connects a number of islands between Honshu and Shikoku.
Please note, however, that these passes do not allow you to use the Tokaido Shinkansen running from Shin-Osaka to Kyoto.
If you wish to use the pass to travel between Shin-Osaka and Kyoto, it is convenient to use the JR Kyoto Line.
You can also use the "Eki-Rin-kun" rental bicycle service, which is included within the area covered by the "Kansai Wide Area Pass", for unlimited use.
It is a nice point to be able to use various means of transportation according to the purpose of your trip.
How much can I save with the pass?
Without the pass, a round trip on the Sanyo Shinkansen from Shin-Osaka Station to Okayama Station costs 11,220 yen, while the "Kansai Wide Area Pass" allows unlimited travel for five days and costs 10,000 yen (*if purchased outside Japan).
Even if you only make one round trip, the pass is definitely more economical. Furthermore, considering that the pass allows unlimited rides for 5 days, it is possible to tour a wide area at a much lower cost.
How can I purchase a pass?
The JR West Rail Pass can only be purchased by travelers who have a passport issued by a foreign government and are staying in Japan for a "short stay".
*Customers of Japanese nationality, including permanent residents in foreign countries, are not allowed to use this service.
There are three ways to purchase the pass: through a travel agency, on the Internet, or in person at a JR station.
The method and amount of purchase differ depending on whether you purchase outside or within Japan.
Please refer to the following to find the best purchase method.
A. Purchased outside Japan (travel agency outside Japan)
10,000 yen for 12 years and older, 5,000 yen for 6-11 years
*The MCO or E-TICKET that could not be exchanged can be refunded at the overseas travel agency where the pass was originally purchased (an additional fee is required).
B. Purchased in Japan and abroad (JR West online reservation)
10,800 yen for 12 years old and older, 5,400 yen for 6-11 years old
Please use the ticket vending machine marked with a red circle.
(1) Reservation information
https://www.westjr.co.jp/global/en/howto/train-reservation/receive/
(2) Passport
A passport with an IC chip is required to receive a pass from a ticket vending machine; travelers without a passport with an IC chip should receive their pass from the ticket counter.
*Check here for stations where you can pick up your pass.
https://www.westjr.co.jp/global/en/ticket/pass/shop/pdf/OTR_EN.PDF
If you pick up your pass at a station, pay for the pass with cash or credit card.
C. Purchase in Japan (JR West Station: Ticket Counter)
11,000 yen for 12 years old and older, 5,500 yen for 6~11 years old
*Only one ticket per product and per person per stay is available for purchase at major JR West stations and online reservations.
How was it?
The JR West Rail Pass is a great value and convenient way to expand your travel plans. Of course, there are many attractive sightseeing spots in the Kansai area alone, but this convenient pass will allow you to enjoy your trip to Japan in a much more meaningful way.
The JR West Rail Pass is available for a wide range of areas in addition to Okayama and Hiroshima, so please check the official JR West website for more information.
West Japan Railway Company – JR-WEST RAIL PASS (westjr.co.jp)