18 Mar 2023 A new platform opened at JR Osaka Station, finally connecting Kansai International Airport (KIX) and Osaka Station directly without transfers!
Until now, the Kansai-Airport Express Haruka served Shin-Osaka Station. Now it has direct access to Osaka Station, making it even more convenient. The number of people using the service is likely to increase significantly.
This article summarises the fares, stops and journey times of the Haruka. We will also introduce discount tickets and the facilities inside the train with photos. Please check it out before your trip!
What is Kansai-Airport Express Haruka?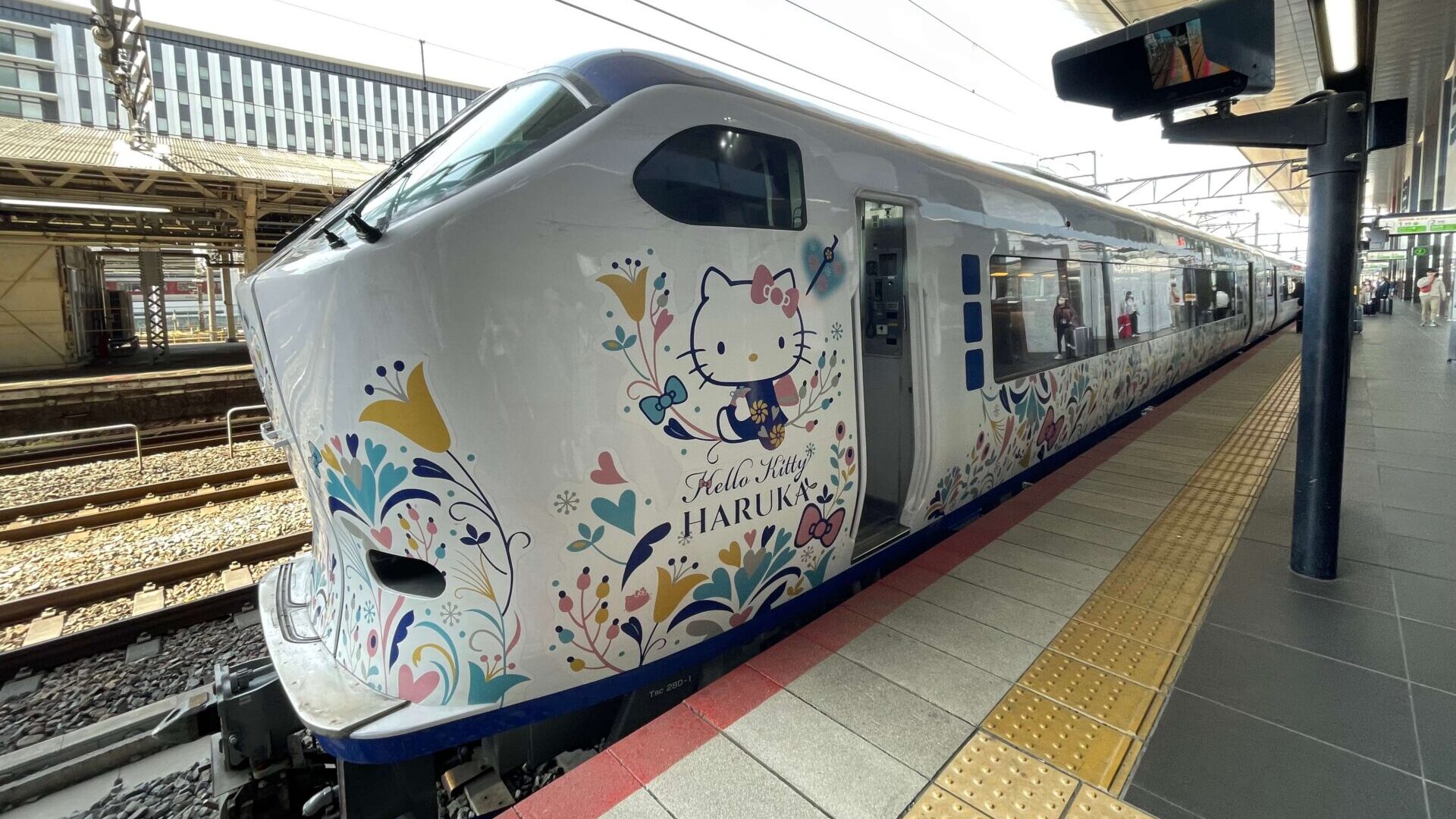 It began operating at the same time as the opening of KIX Airport. It connects KIX to Kyoto. This express train incorporates the Sanrio character Hello Kitty, which is popular both at home and abroad, and a Japanese motif in its design.
Biwako Line (Yasu sta. ー Kyoto sta.)
JR Kyoto Line (Kyoto sta. ー Osaka sta.)
Osaka Loop Line (Osaka sta. ー Tennoji sta.)
Hanwa Line (Tennoji sta. ー Hineno sta.)
Kansai Airport Line (Hineno sta. ー Kansai Airport sta.)
Trains operate on the above mentioned sections. When boarding from Kanku, there are 'For Kyoto' and 'For Yasu' trains, both of which stop at Osaka Station.
train organization
[Kansai-airport express] Haruka No.1・15 , 2・4
It consists of nine cars, with green car No. 1, reserved seats in car Nos. 2-4 and 7-9 and unreserved seats in car Nos. 5-6.

[Kansai-airport express] Haruka No.3・5・7・9・11・13・47・51・55・59 , 6・8・10・12・42・46・50・54・58・60
It consists of six cars, with green car No. 1, reserved seats in car No. 2-4 and unreserved seats in car No. 5-6.
Fare
To take the limited express train, you need a basic fare ticket and a limited express ticket. For example, if you use a non-reserved seat, you will need to pay 1,210 yen for a basic fare ticket + 1,200 yen for a limited express ticket = 2,410 yen
| category | unreserved-seat | reserved-seat | green car |
| --- | --- | --- | --- |
| Adult one-way | 1,200 yen | 1,730 yen | 2,500 yen |
| Child one-way | 600 yen | 860 yen | 1,900 yen |
kansai airport ーosaka
limited express ticket of normal season(Apr.2023)
Click here to search for other price
The price of reserved-seat express tickets and green car express tickets varies depending on the off-peak season, normal season, peak season and busiest season. The fare is -200 yen in the off-peak season, +200 yen in the peak season and +400 yen in the busiest season, compared to the normal season fare above. The ticket machine switches automatically, so just insert the specified amount.
Busiest season
28 April to 7 May 2023; 10, 11, 13 and 16 August; 29 and 30 December; 3 and 4 January 2024.
Peak season
1 and 2 Apr 2023; 14-17 and 28-30 Jul; 4-6, 9, 12, 14, 15, 19, 20 and 25-27 Aug; 15-18 Sep; 6-9, 13-15, 20-22 and 27-29 Oct; 2-5, 10-12, 17-19 and 22-26 Nov; 28-31 Dec; 2 and 5 Jan 2024; 9-12 Feb; 22-31 Mar.
Off-peak season
10-13, 17-20, 24-27 April 2023; 8-11 May; 1, 5-8, 12-15, 19-22, 26-29 June; 3-6, 10-13, 18-20 July; 28-31 August; 4-7, 11-14, 19-21, 25-28 September, 2 to 5 Oct; 4 to 7, 11 to 14, 18 to 21 Dec; 9 to 11, 15 to 18, 22 to 25, 29 to 31 Jan 2024; 1, 5 to 8, 13 to 15, 19 to 21, 26 to 29 Feb.
Normal season
Other than above
Stops
Kansai Airport -(Hineno)-(Izumi Fuchu)- Tennoji - [New!]Osaka - Shin Osaka -(Takatsuki)- Kyoto - Yamashina - Otsu - Ishiyama - Minamikusatsu - Kusatsu - Moriyama - Yasu
4 morning outbound trains and 10 evening inbound trains stop at Takatsuki, while only 5 morning inbound trains and 8 evening outbound trains stop at Izumifuchu and Hineno . Stations in brackets ( ) are those where only some trains stop.
The only stop between Kansai Airport and Osaka Station is Tennoji in most cases.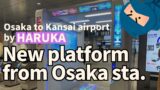 【New open】Underground platform at Osaka!How to get there from Osaka Station
A new underground platform in the Osaka Station Umekita area opened on 18 March 2023. This new platform is located underground on the north side of Osaka Station and incorporates advanced technology. Many people use the Kansai-Airport Express Haruka to access Osaka from Kansai International Airport. Until now, the limited express Haruka stopped at Tennoji and Shin-Osaka, but with the opening of the new platform, they now also stop at Osaka Station, making access to Umeda very convenient. This article also provides information on how to get to the new platform from JR Osaka Station, the new Umekita-underground‐gate, and the facilities of the new platform.
Time required
The journey time from Kanku to Osaka Station is approx.47 min (the journey time varies due to different stops at different times of the day). Compared to the previous JR Kansai Airport Rapid, the ride time has been reduced by 20-25 min.
The journey time from Kansai airport to the final last stop Yasu without changing trains is approx. 1 hour 50 min.
Seating and facilities
Hello Kitty is designed on the body and throughout the car.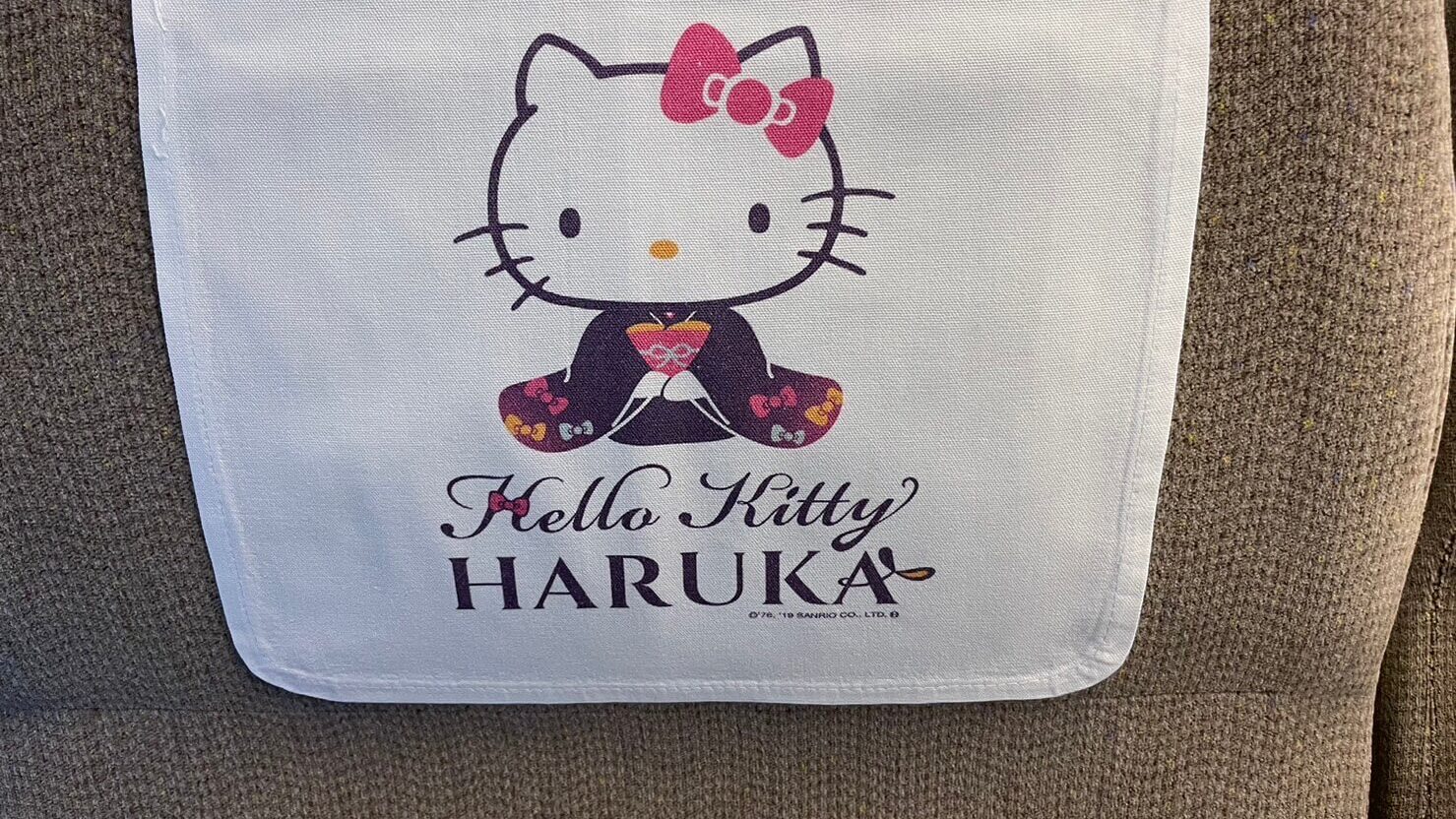 This is the interior of a Green Car, with one row + two rows of seats and headrests. It is a spacious interior. The standard car has two rows + two rows of seats and no headrests, but the seats are spacious and there is a separate luggage compartment, so it did not give the impression of being cramped.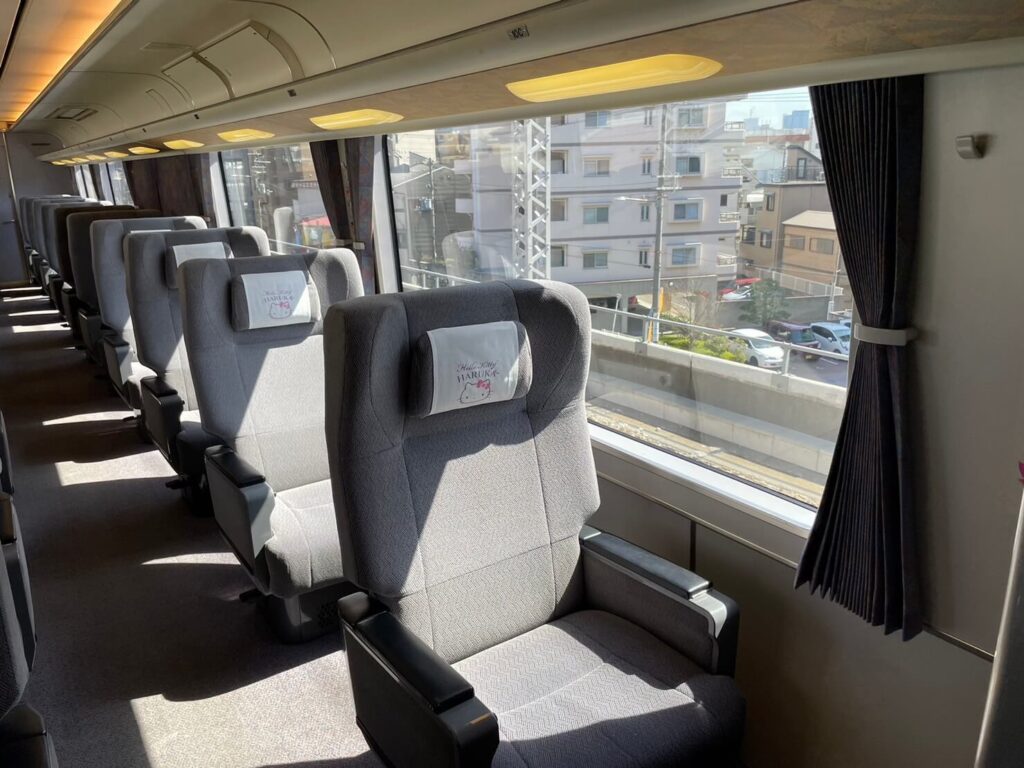 There are also toilets.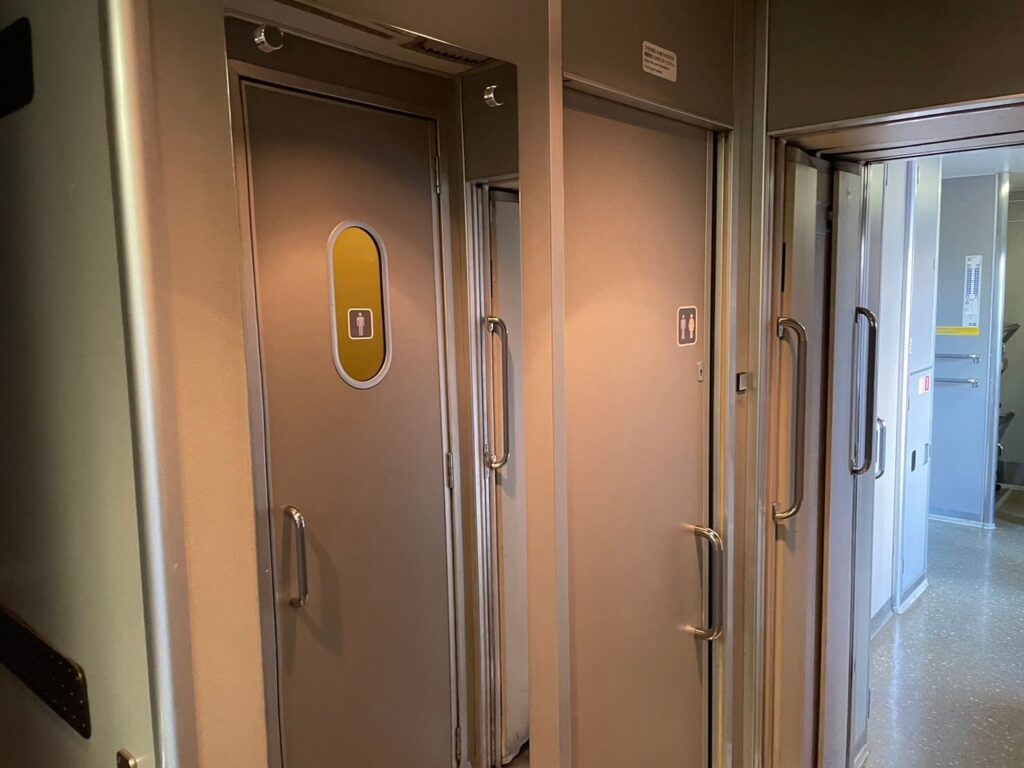 There is a washbasin with mirror.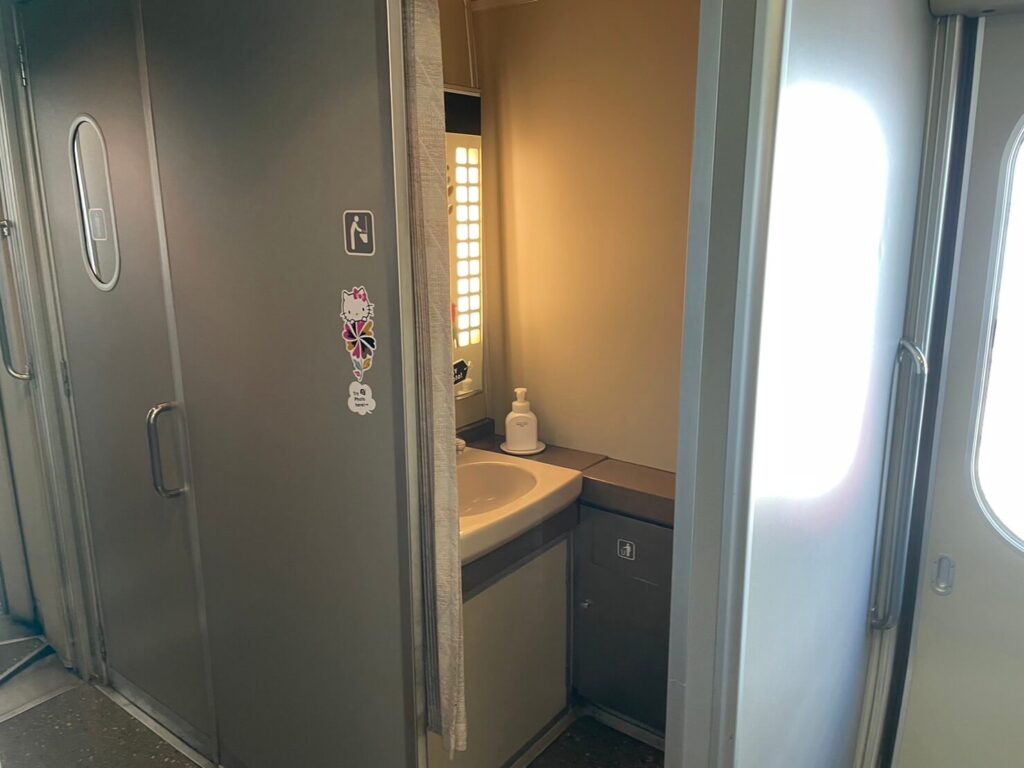 There is a luggage compartment for long items such as skis and golf bags.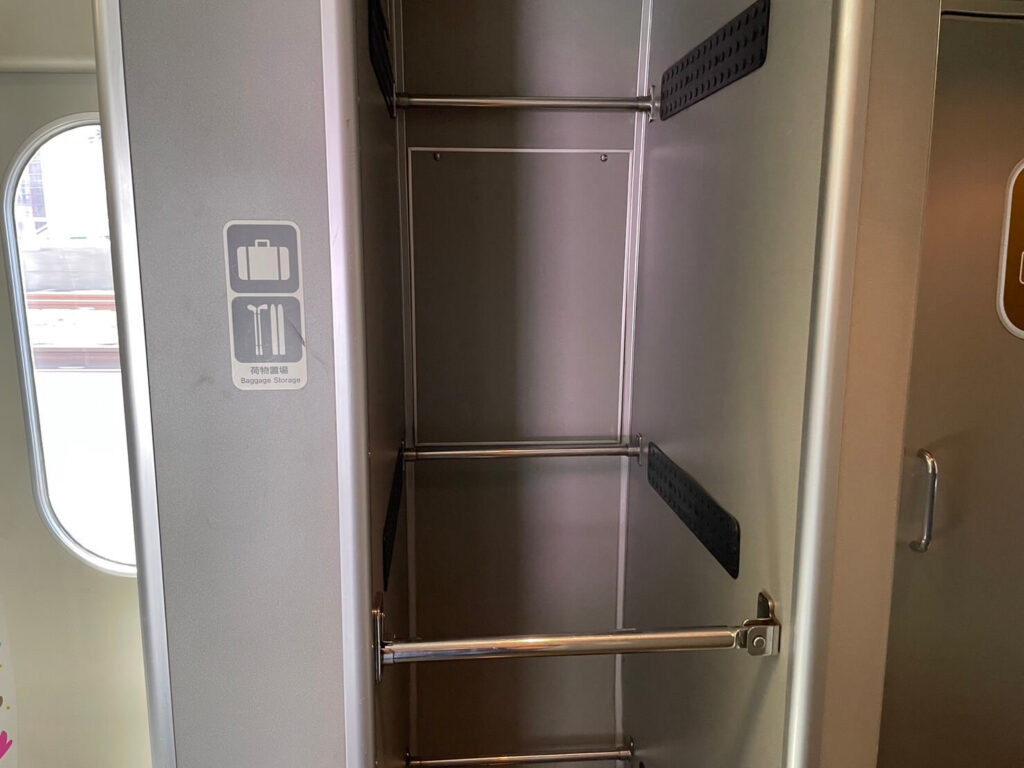 Suitcases and other items can be stored here.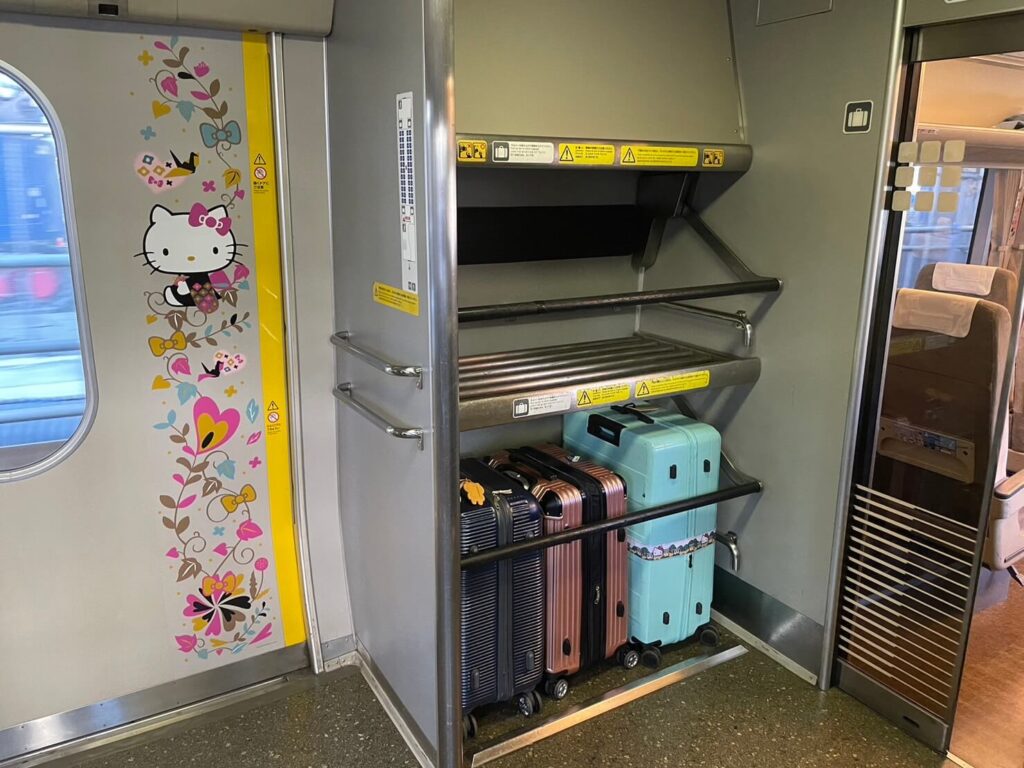 There is a small rest area, but no drink vending machines on the train.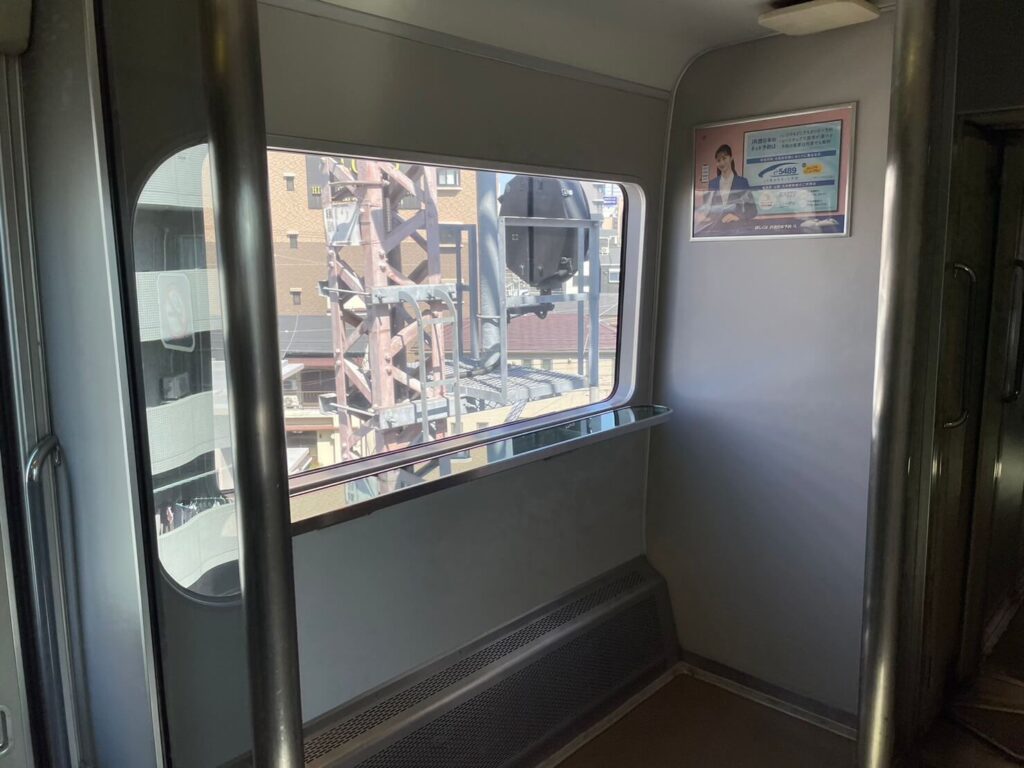 [Recommendation] Discounted ticket
J-WEST Ticketless
The problem with the Limited Express Haruka is that the fares are high if you use the normal buying method. We therefore recommend J-WEST Ticketless. You can purchase reserved-seat limited express tickets at a discount only on the day before or the day of boarding (up to 2 minutes before departure time).
You can only select trains and seats that are available at the time of purchase, but the discount rate is very high, so we recommend checking before purchasing at the ticket machine.
e-Ticketless Express Ticket
J-WEST Ticketless does not offer child fares. If you have children, we recommend the other discount service e-Ticketless Express Ticket. This service offers children's fares, and the reserved seat fare from airport to Osaka Station at discount compared to normal fares. This can be purchased online from one month before the date of use up to the day of use.
J-WEST Ticketless 390
These are the most economical tickets available for a limited period from mid-March to the end of April.
In addition to the express tickets, you need a basic fare ticket, but you can buy just the ticket from a ticket machine or pass through with an IC card.
Members must register if they wish to use the internet booking system.