When you come on a trip, you must stop by a souvenir shop. In this issue, we will introduce the latest recommended products, from souvenirs exclusive to Umeda Sky Building to souvenirs unique to Osaka. You may end up buying too many. Please check them out!
(Prices are as of October 2022)
Original Nanoblock
The Umeda Sky Building can be constructed in one of the world's smallest blocks.Since it is a fairly detailed process, it may be a good idea to take your time to assemble it after returning from your trip, soaking up the memories.The finished product pops and is very cute, and I think it will be enjoyed for a long time in the entryway or on the desk.It is a bit pricey, so how about a souvenir for yourself?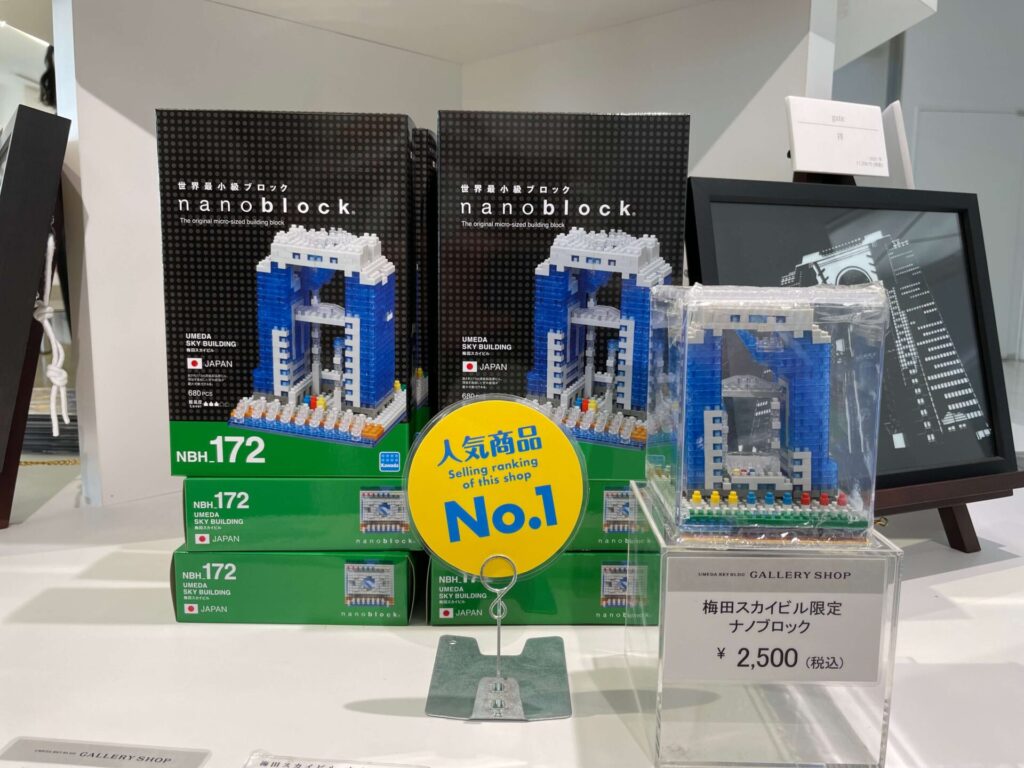 Price:2,500yen(tax included)
Capsule Figure
This figure is an elaborate miniature reproduction of the Umeda Sky Building.You can buy them from a capsule toy machine called a "gacha-gacha". It is fun to see what color you will get.Now, limited edition 25th anniversary colors are available in stores (this is not a mess).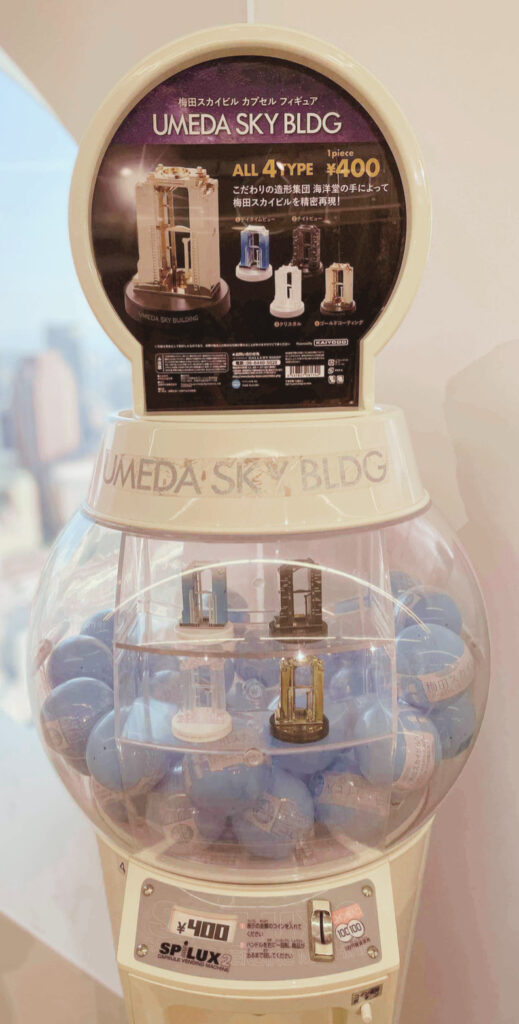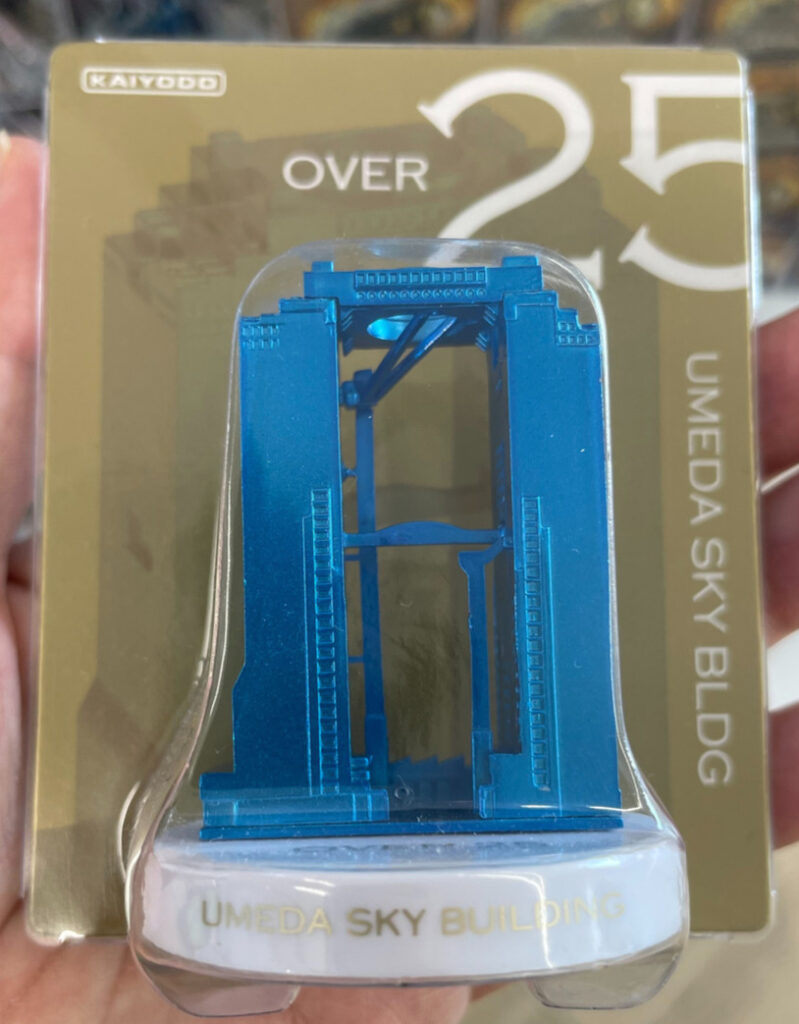 Price(Gacha Gacha):400yen(tax included) 
Price(Limited Color):500yen(tax included)
Original Hand Fan
Having one in my bag helps when it's a little hot indoors or something.This product uses an original illustration of the Sky Building.It comes with a case and can be stored compactly for easy carrying around.There is a cool light blue "Day" type and a mature dark blue "Night" type, both of which are wonderful.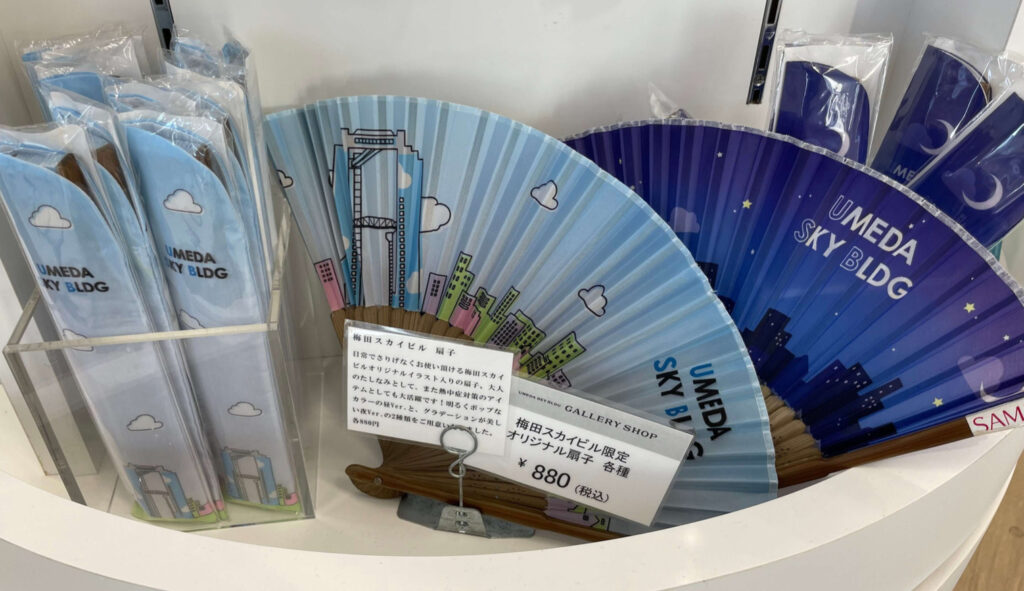 Price:880yen(tax included)
Original FUROSHIKI
This is a traditional Japanese FUROSHIKI.It is illustrated with the Umeda Sky Building.FUROSHIKI can wrap a variety of shapes.Wrapping the two bottles is the very Umeda Sky Building itself.There are two types: a fresh light blue "Day" type and a chic black "Night" type.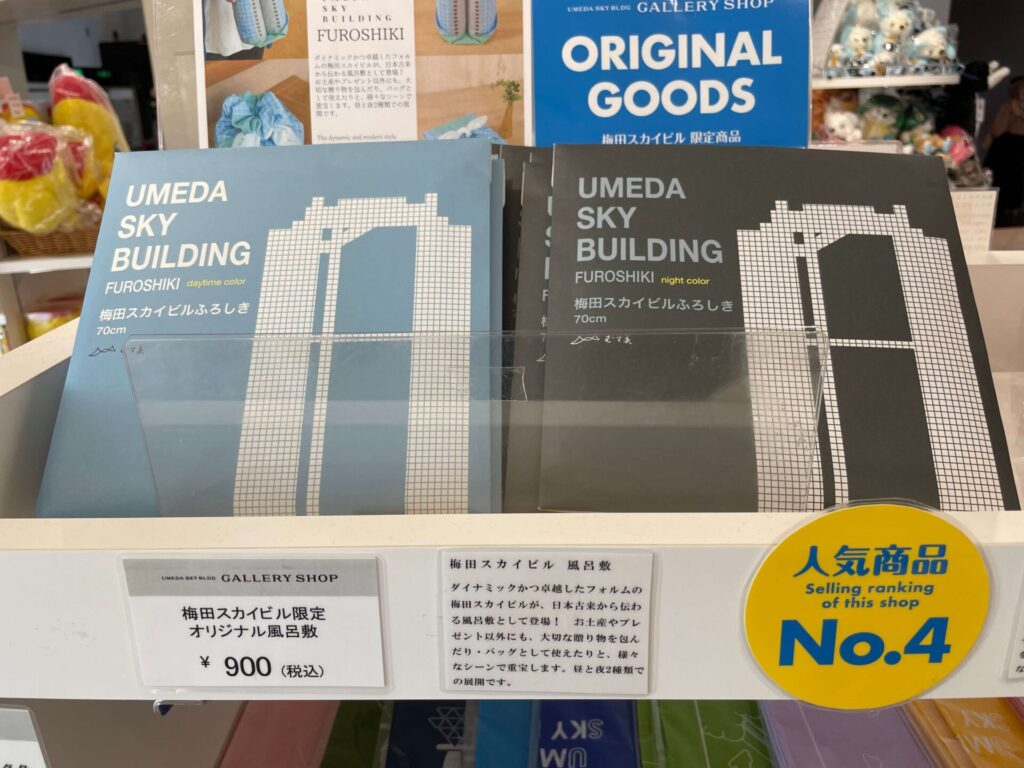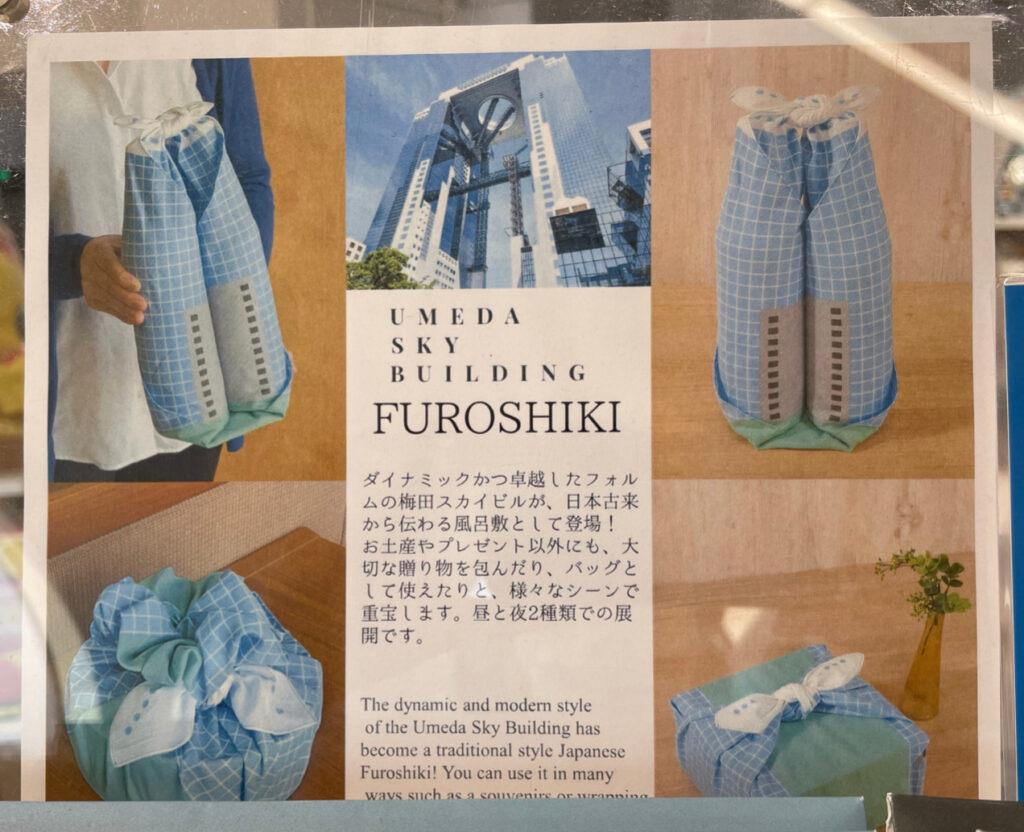 Price:900yen(tax included)
Metal Leather Key Chain
No. 3 in popularity at this souvenir store.This key ring is made of high-grade leather.It could be a good souvenir for your father or boss.Available in blue and red.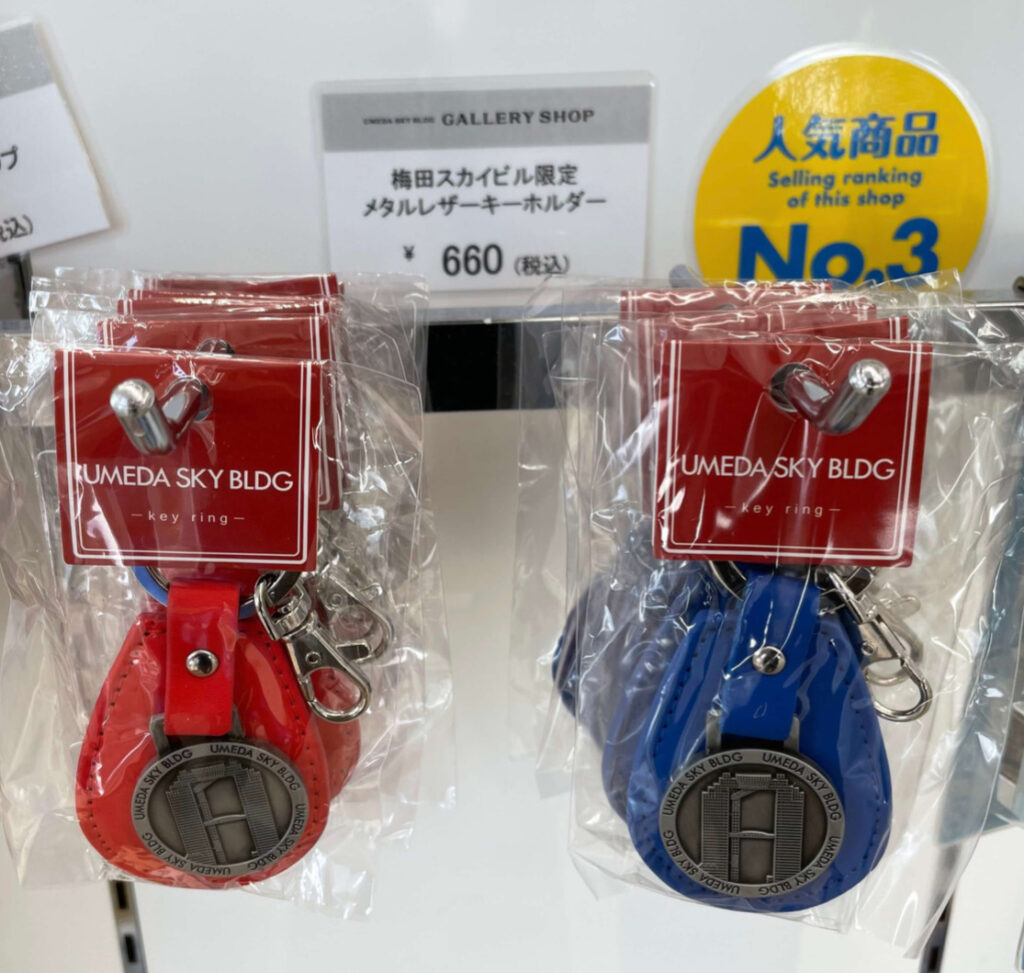 Price:660yen(tax included)
Original Magnet
It is a standard souvenir that is reasonably priced and easy to buy.Most tourist attractions have magnets, and many people probably have a collection of them.There was a flat type with glitter in the picture, an illustrated type, and a three-dimensional type!
Incidentally, the flat type with glitter costs 320 yen per sheet, but a set of three types costs 820 yen, which is a bargain.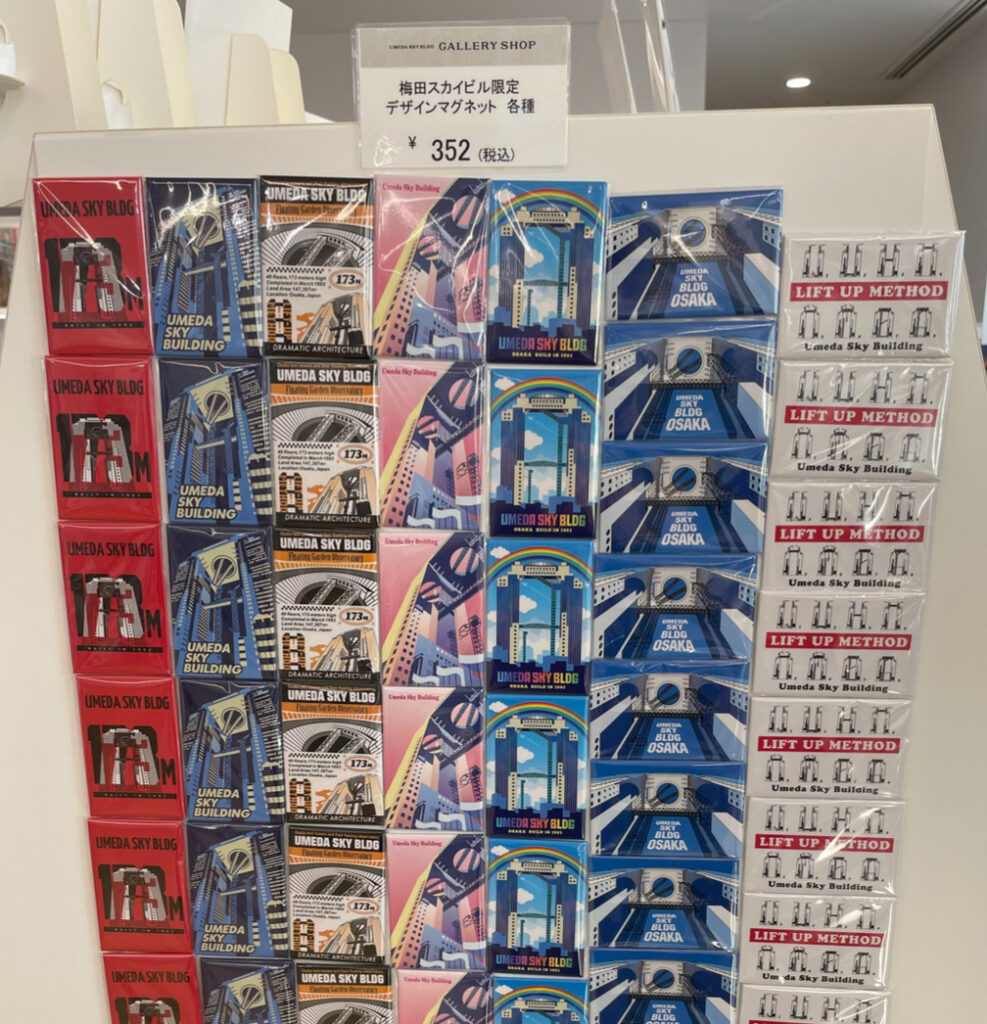 Price:320yen~(tax included) ※It depends on the shape and design
Original Gaufres
Gaufres can be found in all tourist spots, and they are definitely delicious, and it is nice to be able to use the tin for small items after eating.Moreover, the price is reasonable at only one coin, so we recommend it.There are also two designs here, "Day" and "Night".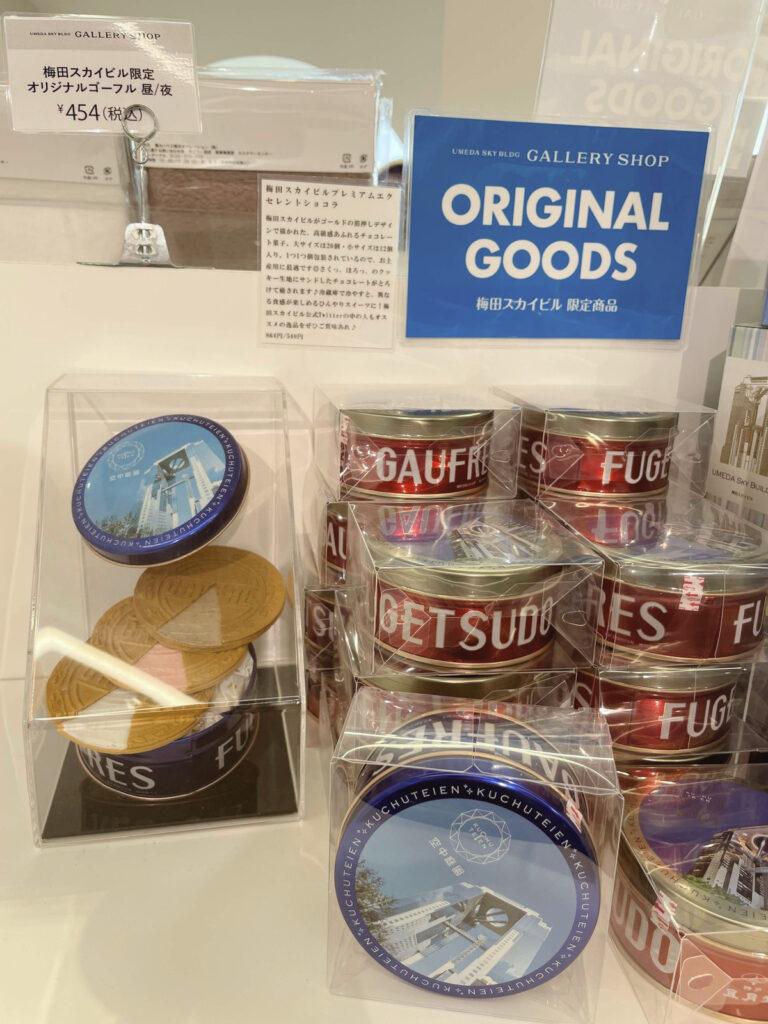 Price:454yen(tax included)
【NANACO PLUS+】AMECHIAN Series
Here are some of my personal favorites, unrelated to OSAKA.Accessories and key chains made by NANACO PLUS in Kyoto, Japan.It is made by coating real candy!They all look colorful and delicious and "KAWAII".It is fun to find one of your favorites and wear it with friends and family.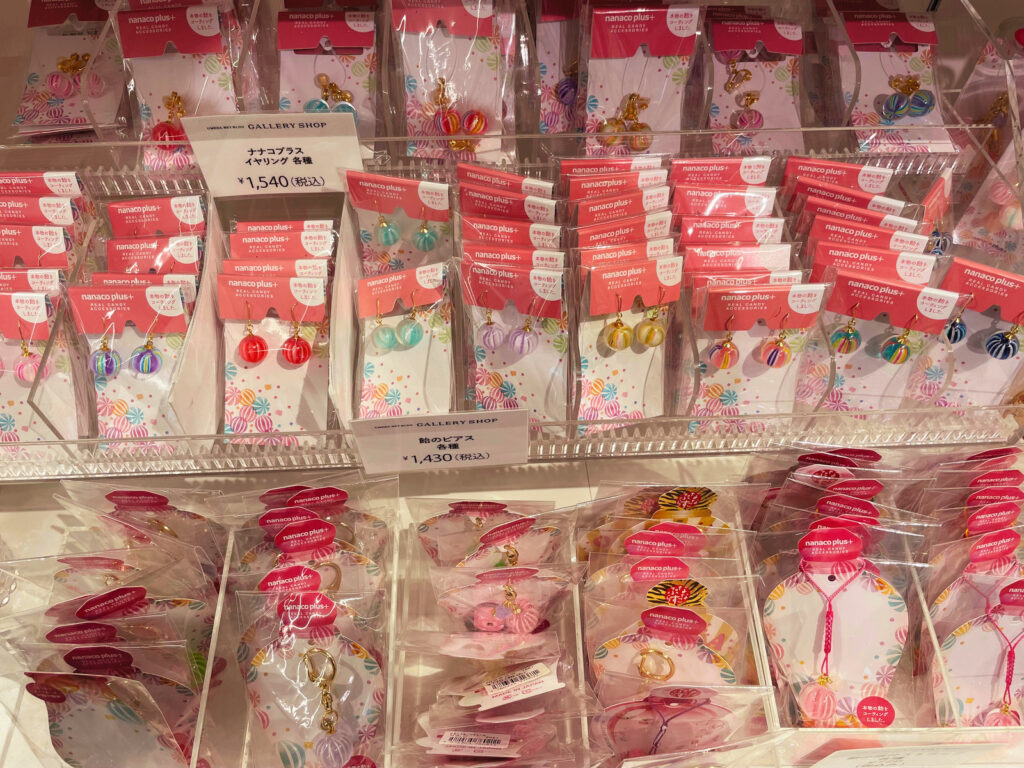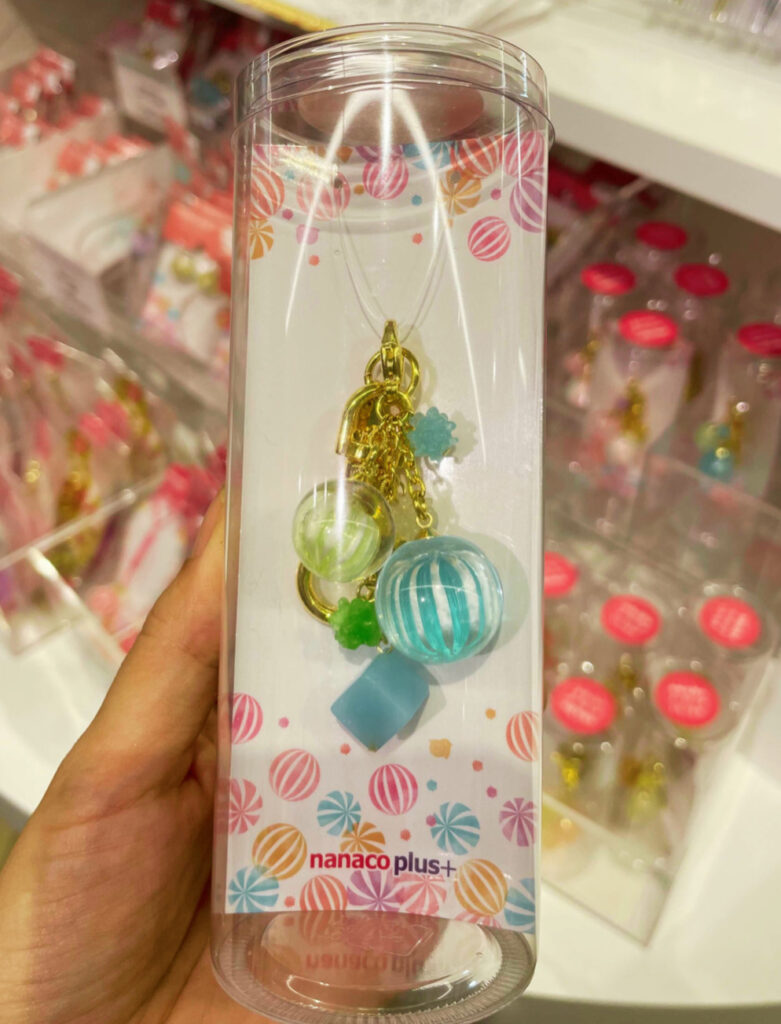 Handmade Japanese Picture Chopsticks
This one is recommended for foreign tourists.A set of chopsticks with Japanese-style illustrations.This price for 5 sets is a bargain.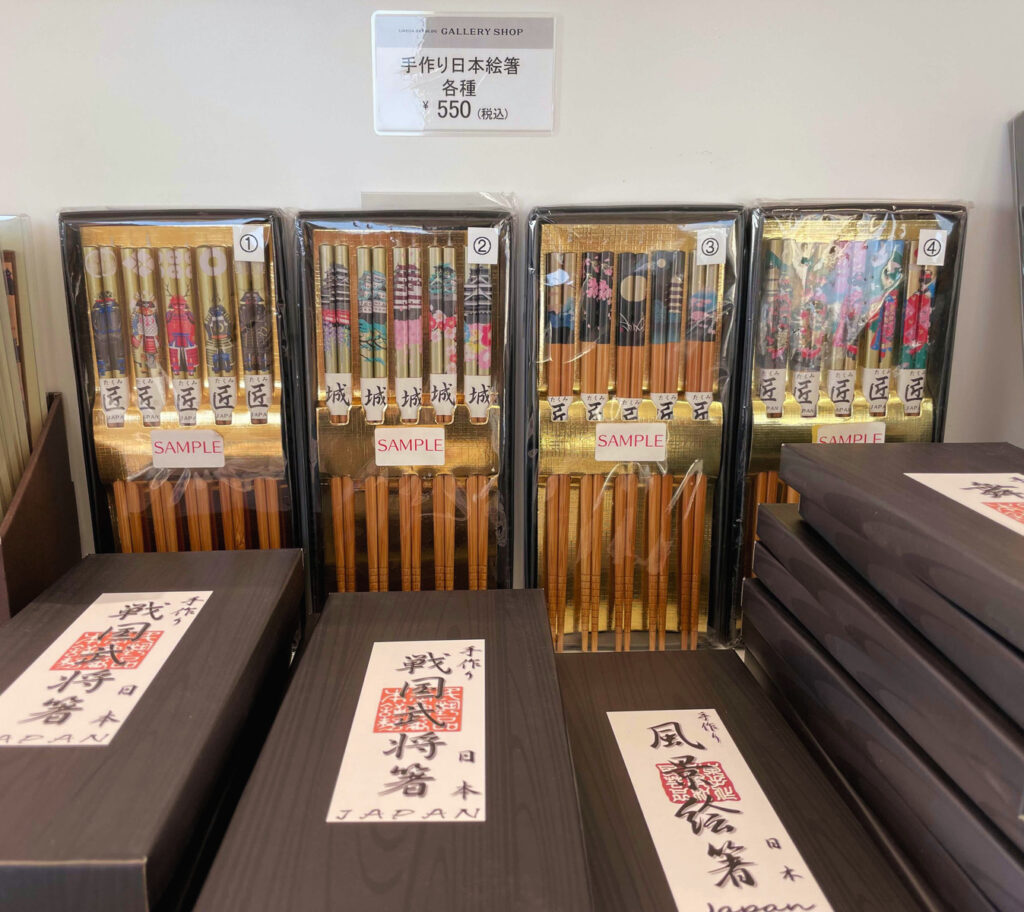 Price:550yen(tax included)
HUEKI-KUN Goods
The character [HUEKI-KUN] is a character of FUEKI-glue Industry Corporation, based in Osaka, Japan.Although Fueki is famous for its glue, it now offers stationery products other than glue as well as cosmetics and other products.Due to the cuteness of the yellow character, HUEKI-KUN goods are very popular as Osaka souvenirs.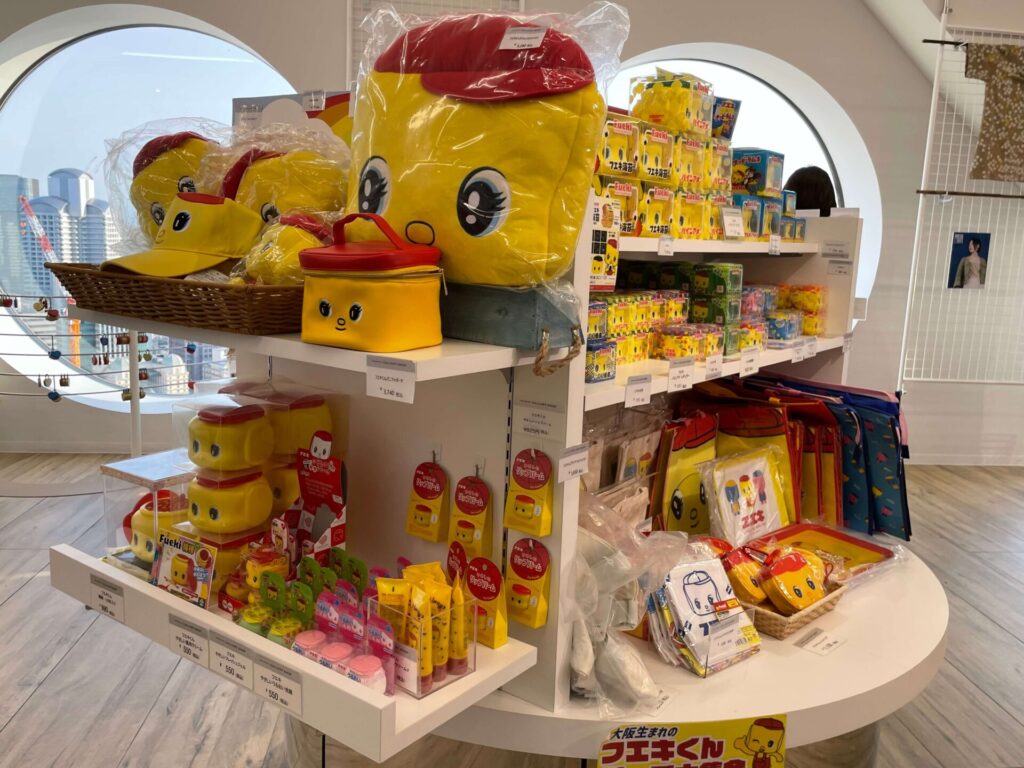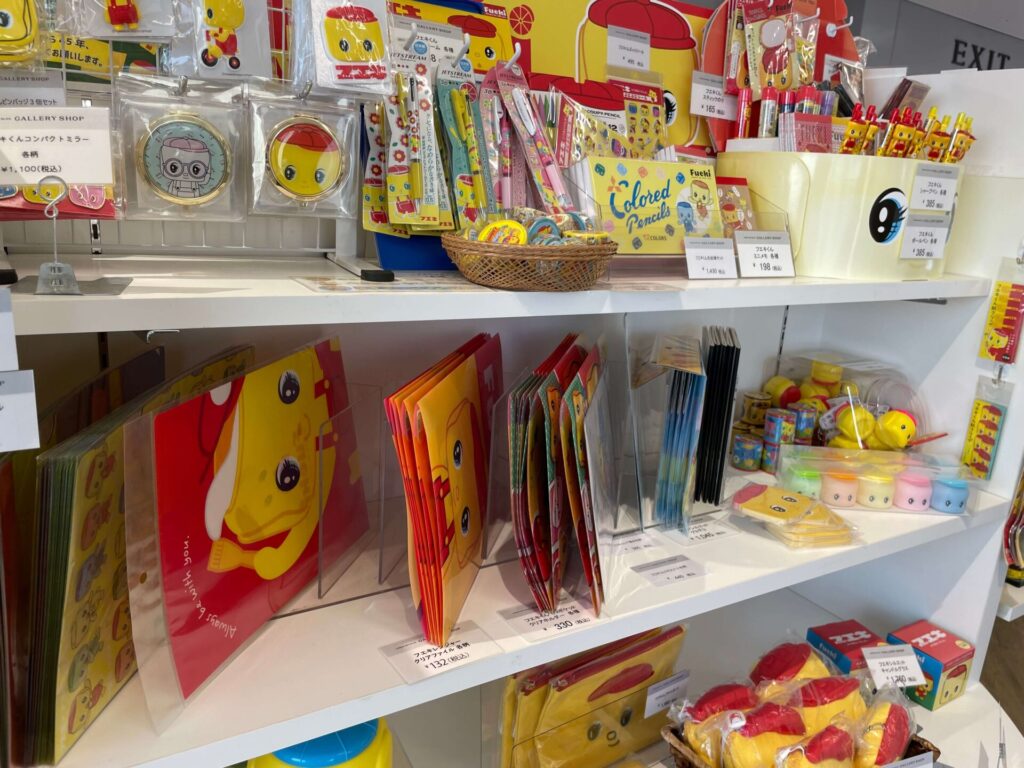 ★【Extra Edition】 KANJI Series
Recommended for foreign travelers are products using KANJI.There were also charms and straps that replaced Foreign Language Names with KANJI.Try to find your name!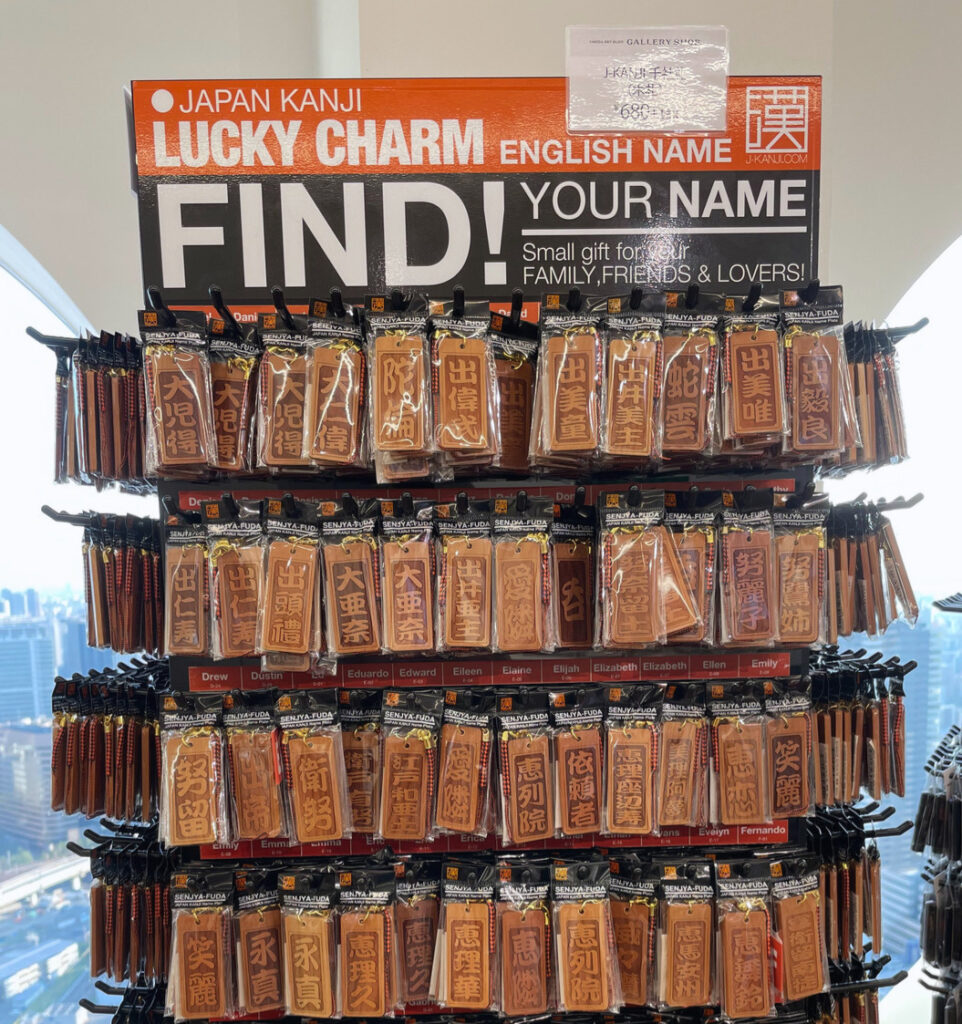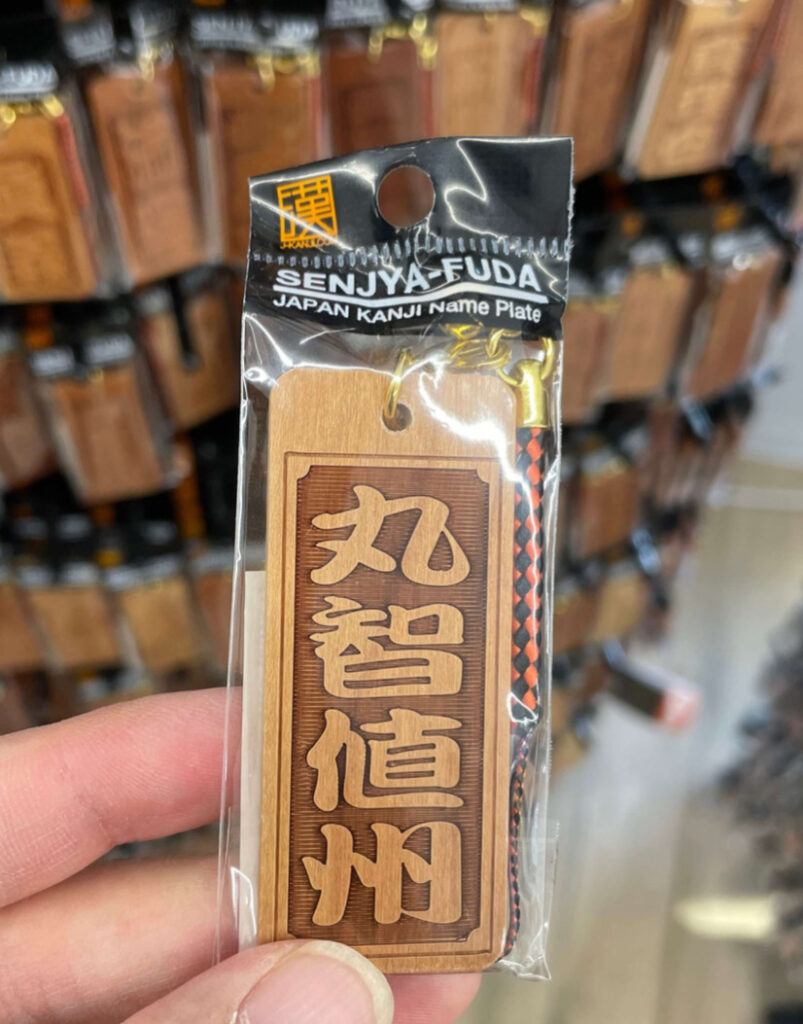 Price:680yen(tax included)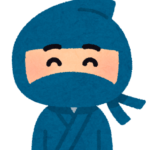 Ninja
They also had a wide variety of other sweets and goods unique to Osaka.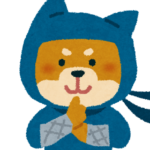 Shiba
Please look for products that give you a sense of Osaka and Japan.
Direction
Food