Kansai International Airport(KIX) is the gateway to Osaka.
From there, many people will travel to sightseeing spots and hotels.
However, Osaka's transportation network is complex.
"Which platform should I board from?"
"Which train should I get on?"
"Does the train stop at the station I want to go to?"
Many people may feel uneasy.
In this article, I would like to explain Kasai airport rapid service(Kanku-Kaisoku) in detail and address the above concerns.
What is "Kansai Airport Rapid Service"?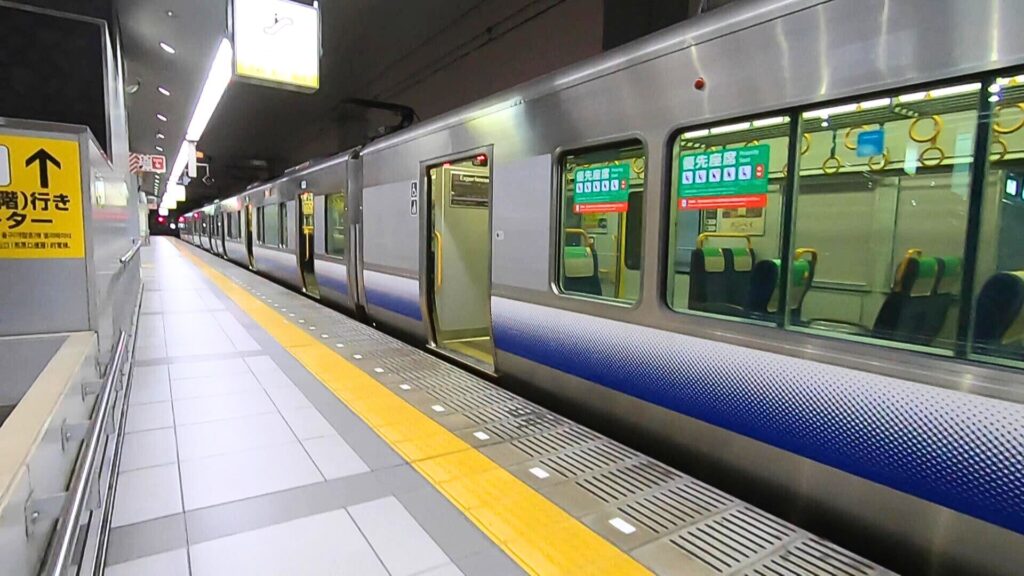 Formal name
This is a rapid train that operates under the name Airport and Kishuji Rapid Service.
This is because the Kishuji Rapid connecting Osaka City and Wakayama runs coupled to the tail end of the Airport Rapid connecting Osaka City and Kansai Airport.
Vehicle configuration
The Airport and Kishuji Rapid Service has a total of 8 cars.
The train will be detached back and forth at Hineno Station on the way.
 

Notes on boarding from Osaka Station



The front four cars, Nos. 1-4, are bound for Kansai Airport, and Nos. 5-8 are bound for Wakayama on the Kishuji Rapid.
Some trains do not detach at Hineno and all 8 cars go to KIX, and some trains 5-8 terminate at Hineno.


However, those who go to KIX from Osaka should board the front 4 cars on the assumption that they will basically be detached from the train.
When going from KIX to Osaka Station, it does not matter which car you board.
To go to Wakayama direction from KIX, you need to change to the Kishuji Rapid train at Hineno Station.
Service area
The Osaka Loop Line circles around Osaka City, the Hanwa Line connects central Osaka with the Wakayama area, and the Kansai Airport Line connects Hineno Station in the middle of the Hanwa Line to KIX.
It is a train that operates in three main sections.
Each route is represented by the following symbols.
Osaka Loop Line・・・
Hanwa Line・・・

Kansai Airport Line・・・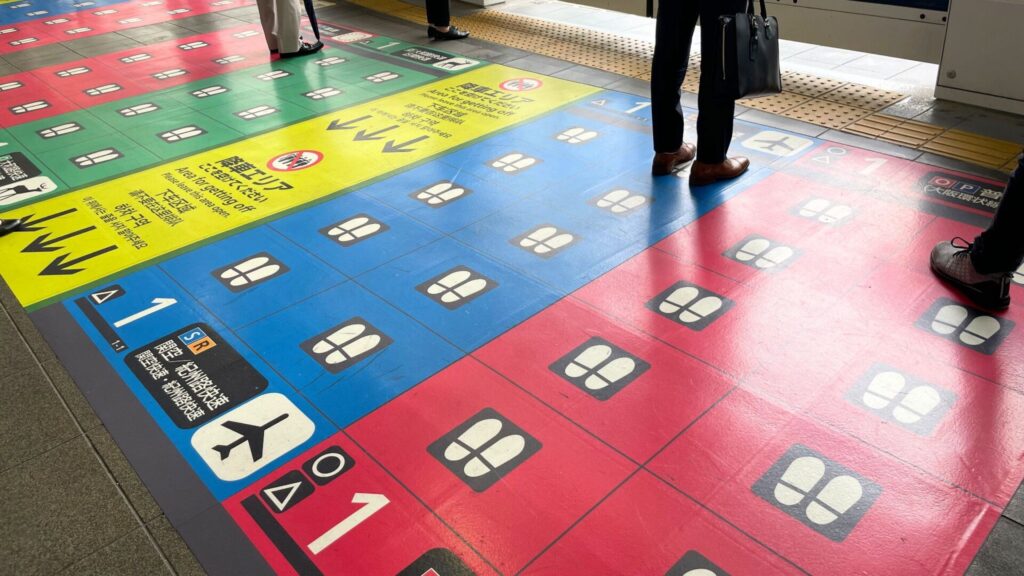 Stops
(☆Tennoji ⇨ Teradacho ⇨ Momotani ⇨ Tsuruhashi ⇨ Tamatsukuri ⇨ Morinomiya ⇨ Osakajokoen ⇨ Kyobashi ⇨ Sakuranomiya ⇨ Temma)
⇨ Osaka ⇨ Fukushima ⇨ Nishikujo ⇨ Bentencho ⇨ Taisho ⇨ Shin‐Imamiya ⇨ Tannoji ⇨ Sakaishi ⇨ Mikunigaoka ⇨ Otori ⇨ Izumi-Fuchu ⇨ Higashi-kishiwada ⇨ Kumatori ⇨ Hineno ⇨ Rinku-town ⇨ Kansai-airport
☆The sections in parentheses ( ) indicate stops at each station.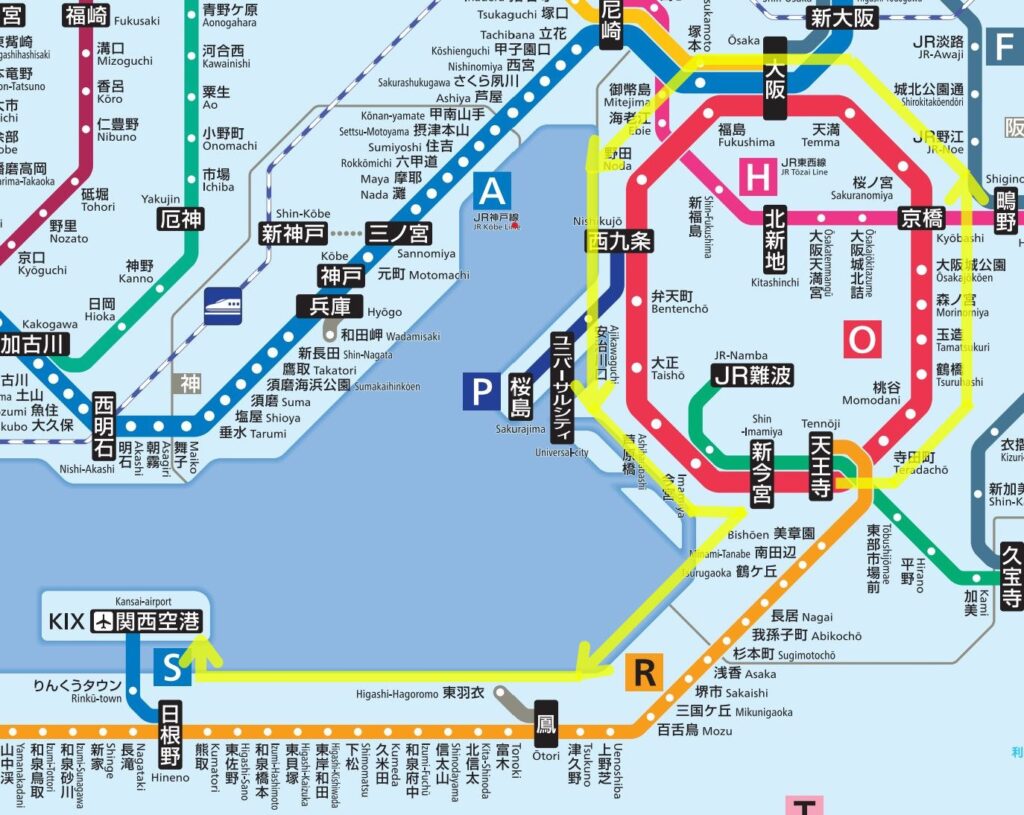 Required Time
Osaka ー Kansai Airport:Approx. 1 hour 10 minutes
Tennoji ー Kansai Airport:Approx. 55 min.
Interval
The service runs approximately every 15 minutes, four times an hour from 5:00 a.m. to 11:00 p.m.
Early mornings and evenings are sometimes 20-30 minutes apart.
Where is the platform?
To go to KIX from Osaka, board the train from platform 1 of JR Osaka Station.
To go to Osaka from Kansai International Airport, board a train from platform 3 or 4 at JR Kansai Airport Station*.
*The platform you board from depends on the time of day, but the train stops at Osaka Station regardless of which platform you board from.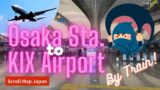 How to get to Kansai International Airport (KIX) Terminal 1 from Osaka Station by train
There are various routes from #Osaka Station to Kansai International Airport(#KIX ). In this article, we will show you how to get there by train, which is easy to understand and involves no transfers. Please check it out before your trip and make your stay in Japan worthwhile.
Seats and Facilities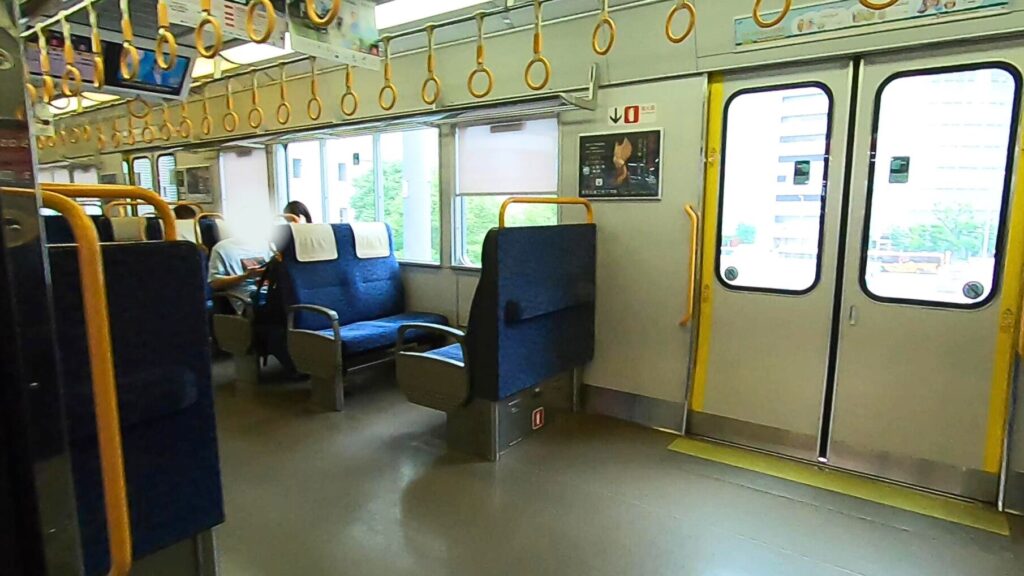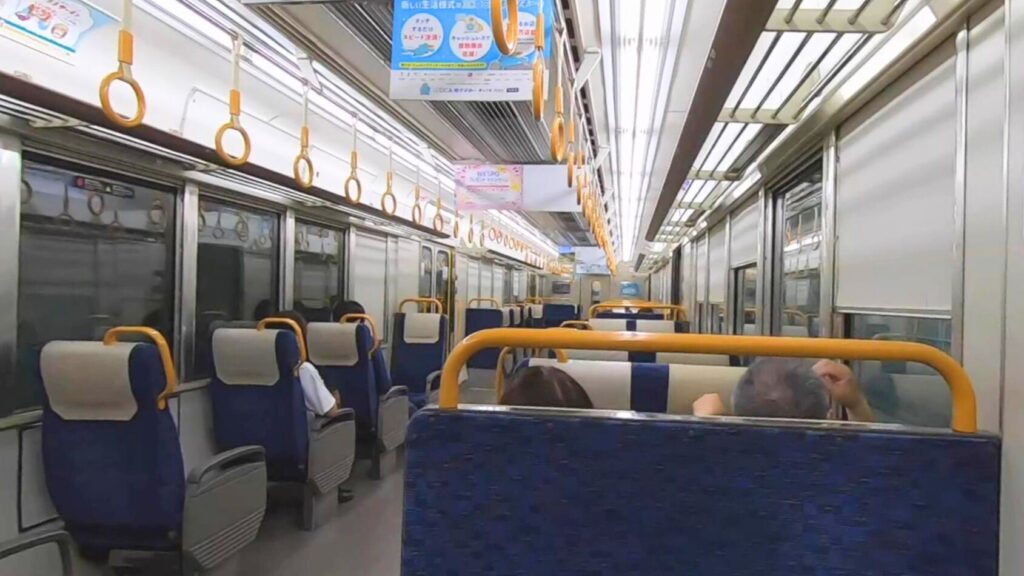 Seat
It is installed in 1 row + 2 rows (there are 2 rows + 2 rows of seats near some doors).
The aisles are wide and designed to make it easy to get on even if you have large luggage.
Restroom
Restrooms are located in Car 1.
Beverage vending machine
There are no vending machines on the train.
Fare
Osaka ー Kansai Airport:1,210 yen
Tennoji ー Kansai Airport:1,080 yen
This train is not an express train and can be used if the above fares are paid.
In addition to purchasing tickets from ticket machines, prepaid IC cards such as Suica and ICOCA can also be used.
Comparison with other modes of transportation
| Traffic | fare | Time required (approx.) |
| --- | --- | --- |
| Airport rapid service | 1,210 yen | 70 min. |
| Shuttle bus service | 1,600 yen | 60-70 min. |
| Airport express train HARUKA | 2,410 yen | 45-50 min. |
For Airport Express Haruka Non-reserved Seats
The fare for the airport express Haruka is by far the most expensive, but various discounts can be used to reduce the fare considerably.
JR West's e-5489 service allows you to purchase reserved-seat express tickets at a discount.
Among them, J-WEST Ticketless offers the lowest price for reserved-seat express tickets from the day before to the day of departure (2 minutes before departure).
Normally, when using the airport express Haruka, even non-reserved seats cost 1,210 yen(train ticket) + 1,200 yen(express ticket) = 2,410 yen.
Reserved seat tickets are even more expensive: 1,210 yen + 1,730 yen(express ticket*)= 2,940 yen.
However, with J-WEST Ticketless, the cost is 1,210 yen + 750 yen = 1,960 yen.
If you want to save some travel time, or if you want to splurge a little because you are traveling for a special occasion, this is the ticket for you.
*Regular season rates. Reserved seat express fares vary depending on the season.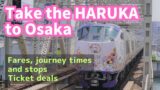 【KIX to Osaka】What is Kansai-airport express Haruka?
18 Mar 2023 A new platform opened at JR Osaka Station, finally connecting Kansai International Airport (KIX) and Osaka Station directly without transfers! Until now, the Kansai-Airport Express Haruka served Shin-Osaka Station. Now it has direct access to Osaka Station, making it even more convenient. The number of people using the service is likely to increase significantly. This article summarises the fares, stops and journey times of the Haruka. We will also introduce discount tickets and the facilities inside the train with photos. Please check it out before your trip!
The following discount services are also available for international travelers.
https://www.westjr.co.jp/global/en/ticket/pass/pdf/haruka_limited-edition_en.pdf
Important point
The most important thing to keep in mind when traveling from Osaka to KIX is the vehicle you board.
As mentioned above, in most cases, the rear train of the Kansai Rapid is detached at Hineno Station on the way and goes in the direction of Wakayama.
If you are going to Kansai Airport, you must ride in the front four cars (cars 1-4) in the direction of travel.
In addition, between the Kansai Rapid and Kishuji Rapid that are connected, you cannot pass through the inside of the train.
Therefore, if you get on car No. 5 or later, you must get off once at Hineno Station and move to the car in front.
The detachment work at Hineno Station takes about 5 minutes, so there is no problem even if you move during that time.
The vehicle number is always written on the electronic bulletin board inside the car or on the information board on the outside of the vehicle, so you don't have to panic.
Nankai Line is convenient for getting to Namba
Trains from Kansai Airport Station to Osaka City are available on the Nankai Line as well as the JR Line.
The JR line is convenient for going to Osaka and Umeda area, and the Nankai line is convenient for going to Namba.
The Nankai Line operates the airport express train and the limited express train "Rapi:t".
Please choose according to your destination and budget.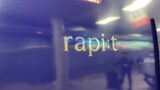 [KIX Airport ⇔ Namba]What is the limited express train "Rapi:t" ?
Limited express "Rapi:t" connects Kansai Airport Station and Nankai Namba Station, which are directly connected to KIX,...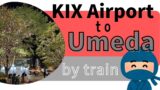 【KIX to Umeda】The inexpensive way to get there by train
Many people who come to Osaka for sightseeing use Kansai International Airport. After arriving at the airport, many...